This is new for you. It's never too early to start preparing for both birth and motherhood. Read More, learn more as much as you can now, it will help you feel more confident in making decisions. You should be selecting your hospital, healthy eating and exercising, what is best for you and your baby, and finding a childbirth education class.
Positive Habits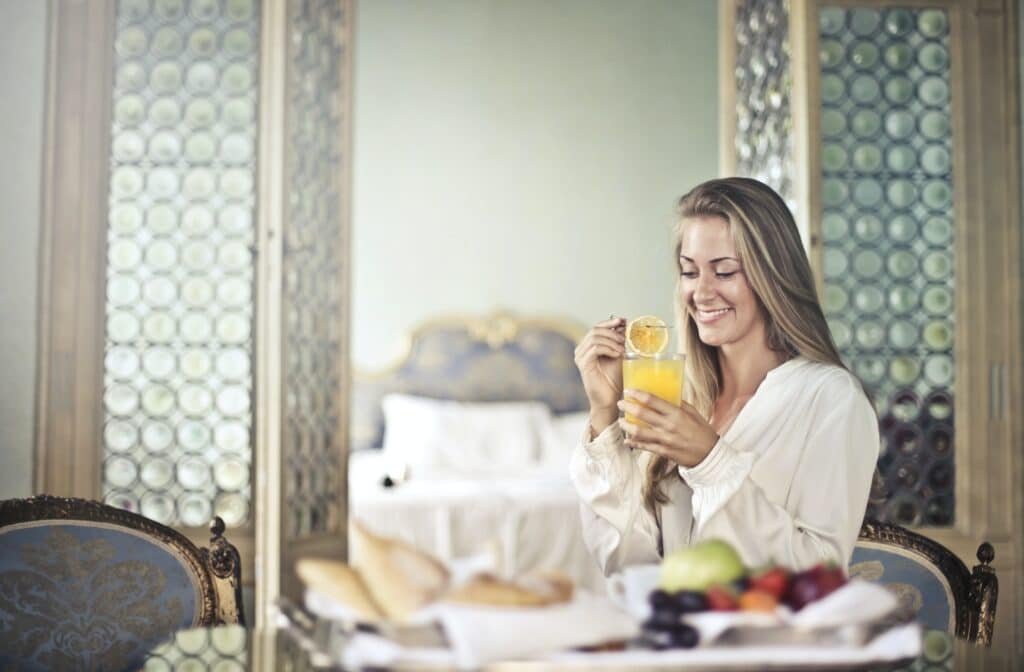 Getting Pregnant is a beautiful and excellent time to prioritize taking the best care of yourself. It is really important to imbibe positive habits to ensure the best health for you and your developing baby. Becoming a mother takes your attention towards positive habits like healthy eating, plenty of water and fluids intake, yoga classes or exercise regularly, and don't forget to get plenty of rest—you're now sustaining a new life and preparing for the big day of childbirth. It would be too early but you should also prepare yourself mentally for labor and new life of motherhood. Read or watch things that make you feel positive and energetic about your upcoming birth, for example, dance videos, childbirth education, birth documentaries such as The Business of Being Born, YouTube clips, and stories from family/friends. Most importantly, enjoy quality time with your family. This is your time. Get pampered by your partner and family. Now is the time to strengthen relationships with your partner, children, and other close relationships in your life.
Childbirth Education
For the first time parents, Childbirth education classes (online or offline) are a great idea. A helpful refresher even for those who have already experienced childbirth and parenting. By attending these classes you inculcate skills to facilitate a healthy, happy pregnancy and birth and a positive and bond of love and care amongst partners. Most hospitals offer classes for expectant parents, but they often cover only information about hospital procedures and what to expect. You may want to explore additional options to ensure you get the full range of information you need to make informed decisions throughout pregnancy and birth.
A good class should give you an overview of your options and be realistic about the kind of experience you may have. It should review the stages of labor and teach you pain management skills and breathing techniques. And it should include every possible scenario, "not just what the hospital is offering." Most of all, the class should mirror your own philosophies and desires.
Your midwife can also give recommendations for breastfeeding and parenting classes in your area to help get you off to a strong start as a new mom.
Writing Your Birth Plan
There will be a lot of your loved ones to give you advice, suggestions, and recommendations about the new welcome. But a birth plan may be a written statement of your desires and what's important to you once you are pregnant and ready to learn new things. A birth plan describes the experience you hope to possess, and therefore the ways you would like support or help from those that are caring for you. It can include an outline of your ideal labor and birth, also as things such as:
It can be totally your choice of labor room companions, including the participation of family and siblings
Pain management preferences
Medical procedures
Care immediately about your birth
Newborn care and procedures
Infant feeding preference and process
Preferences just in case of a non-emergency cesarean birth
Religious, cultural, or other beliefs
Your choice of contraception for after the birth
A birth plan will assist you to study your choices, and it helps you share your goals for your labor and birth with those that are caring for you during labor. once you work on a birth plan together with your provider, you share thoughts and concepts, which can help develop trust.
Avoiding Cesarean Birth
A cesarean birth may be a surgery done to deliver your baby by an incision in your uterus through your abdomen. Cesarean birth carries tons of additional risks for the mother and baby, and for a woman's future pregnancies. childbirth is far and away from the safest for many women and their babies.
You are much more likely to possess health problems after a cesarean than after childbirth. These include severe bleeding, infection, more pain, more difficulty establishing breastfeeding, a good range of complications from the surgery, and extended recovery time. Having a cesarean also can cause you to possess health problems later.
For these reasons, a cesarean should be done as long as it's needed to guard your health or your baby's health.
For all these reasons, a cesarean should be done only if it is needed to protect your health or your baby's health. View tips for avoiding a cesarean birth here.
Waiting for Baby's Arrival
One of the toughest realities to simply accept during pregnancy is that your baby is extremely unlikely to change state on your "due date." actually, only about 5% of babies arrive on their mother's estimated maturity, and it's quite common for babies to arrive after the maturity. Not knowing exactly when your baby is going to be born can make planning for important things like work, social events, and out-of-town visitors difficult. But the inconvenience of not knowing is well worthwhile for the health of you and your baby.
While being finished with pregnancy could seem tempting during that previous couple of weeks, artificially starting labor for nonmedical reasons is linked to increased risks including premature, cesarean surgery and infection.
Easing the Transition to Motherhood
The first month's reception after your baby is born are often a quiet, gentle time of going to know this new one that has come to measure in your home. except for most girls, it's not all quiet or sweet. And for a few women, it's a really hard time. Tips for alleviating the transition include:
Get someone (partner, parent, friend) to require care of you and your other children for a minimum of 2 weeks after the birth. you'll got to have backup plans for care just in case your baby arrives earlier or later than expected.
Consider cooking meals ahead of time and freezing them for later use.
Familiarize yourself with breastfeeding resources in advance.
talk to your friends, family, or a service to take care of your pets.
Ask your doctor for advice on parenting and transitioning your other children to a household with a new baby.
Decide whether or not you will return to work and arrange for infant feeding needs and childcare. Sometimes returning to work can be the hardest time for both moms and partners. It helps to discuss with your partner in advance how to handle childcare and household roles and responsibilities.
Getting rest can be difficult. If at all possible, sleep when your baby sleeps.