I want out!

(Shout Out)

I think that's the message your toddler will send – a method or another – when he's able to wave goodbye to the crib and say hello to a big-kid bed. Your child might actually verbalize discomfort, moreover simply want to climb out of the crib.
So What's needs to be done?
First, resist the temptation to maneuver him too early. Most experts recommend doing so around age 3. Unless your child is climbing out of his crib or needs more room than a crib can provide – his body is growing at an astounding rate – it's better to keep him in the crib, which allows him to feel safe.
This way, your child can feel comfortable taking giant developmental leaps during the day but still regress to the safety of his old crib in the dark.
Moreover, until age 3, toddlers are very impulsive, and your child's difficulty in understanding and having the ability to follow directions or rules (like staying in bed all night) will make sleeping in a bed a real challenge. If you transition to a bed before age 3, you'll plan on awakening to a touch visitor next to your bed just about nightly.
When the time comes, however, you would like to assist your child transition smoothly to sleeping during a bed.
For that, you need to follow certain steps. These are:
1. Create a secure environment:
Safety proof your child's room and all adjacent areas he might visit during the night. Secure or maybe closed windows, tops of stairs, and you know it better. Even better, you'll install a security gate at your child's door. You can even install a little night-light in his room to assist him to orient himself and avoid hurting himself.
2. Pick the new mattress for the baby:
Go to the nearby mattress store – and let your child help you choose the mattress or bed. With keeping safety in mind, all you would like maybe a twin-size mattress and bedspring and a few safety rails for the side. This new bed and mattress will got to sit low on the ground a few times until your child gets to it. Get some fun new sheets, some special pillowcases and you're set to go.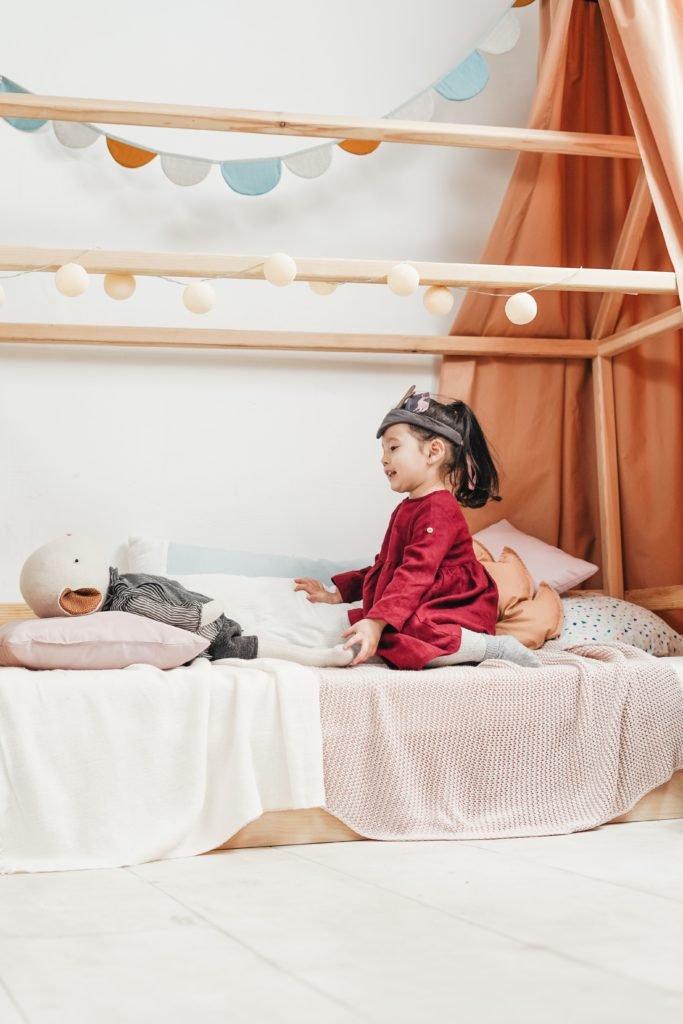 3. Transfer the crib (together):
Once the new bed comes home, ask your child to help you to take down the crib. This way, your child will feel a part of the transition process and can even be ready to say good-bye to the crib.
4. Set up the new bed and the mattress:
Put the bed in one of the corners of your kid's room so that the head and at least one side of the bed are protected with the wall. Add a security rail can be fitted to the exposed side of the bed. Your child will feel safe this way even as he was safe in his crib.
5. Explain the bedtime rules:
Discuss the bedtime rules with your child. Tell your child that sleep is really important and we should sleep till the sunlight enters your room.
6. Do your bedtime routine:
Since your child is new to his bed, you should take an extra 10 minutes to spend first few nights and read some stories to make him comfortable in his new bed and environment. Slowly and gradually you child will be comfortable and feel safe in this new environment.
Still finding a problem to make your baby sleep well. I have something to share with you. Click here for the Miracle.